Diabetic retinopathy LINKS network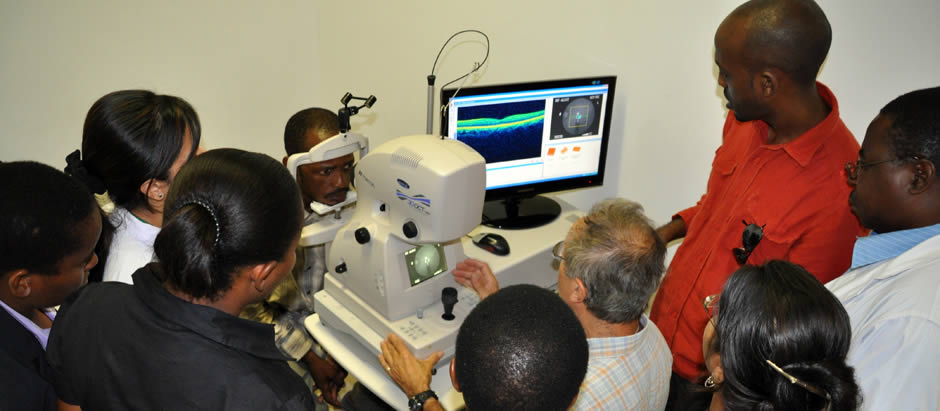 Building a network to combat diabetic retinopathy across the Commonwealth
The Consortium is addressing the growing burden of diabetic eye disease across the Commonwealth by developing a network of hospital-based training LINKS between African and UK partners. Part of the VISION 2020 LINKS Programme, the network will enable Commonwealth eye health professionals to share their experiences and knowledge.
Through the network, nine partner hospitals in Africa and the Caribbean will develop appropriate strategies and services to screen diabetic patients. The participating LINKS partnerships are:
Ministry of Health, Botswana and Addenbrooke's Hospital, Cambridge, UK
Kitwe, Zambia and Frimley Park Hospital, Surrey, UK
Muhimbili University, Tanzania and St Thomas' Hospital, London, UK
KCMC, Moshi, Tanzania and University Hospitals Birmingham, UK
Makerere University, Uganda and Royal Free Hospital, London, UK
Lilongwe, Malawi and Edinburgh, UK
LUTH, Lagos, Nigeria and Royal Bolton Hospital / N W Deanery, UK
Kenyatta National Hospital, Kenya and University Hospitals, Coventry, UK
University of the West Indies, Jamaica and Homerton University Hospital, UK
By catching diabetic retinopathy early, more people will have their sight saved and the number of people going blind unnecessarily across the Commonwealth will be reduced.
More information
For more information about the diabetic retinopathy LINKS network please  Contact us.
Image: Training in use of OCT machine at Muhimbili, Tanzania with VISION 2020 LINKS partner St Thomas' Hospital, London. VISION 2020 LINKS Programme