On Tuesday 29th October 2019 members of the International Centre for Eye Health (ICEH) and eye health professionals from 28 countries were invited to an evening reception at Buckingham Palace hosted by Her Majesty The Queen. This special event was a celebration to mark the achievements of ICEH project Commonwealth Eye Health Consortium and its funder, The Queen Elizabeth Diamond Jubilee Trust, as well as the Trust's other eye health programmes. The vice-patron of the Trust, Her Royal Highness The Countess of Wessex, gave a speech at the reception.
The Consortium was established in 2014 and has made a substantial contribution to the development of the eye health workforce and strengthening eye health systems. Commonwealth citizens have already benefited from improved services, brought about by training people, increasing and sharing knowledge, and developing new tools and technology. While the project's focus is on Commonwealth low- and middle-income countries (LMICs), the impact goes wider.
The Consortium has delivered training to people, shared knowledge and/or provided tools to eye health professionals in every one of the 53 countries of the Commonwealth.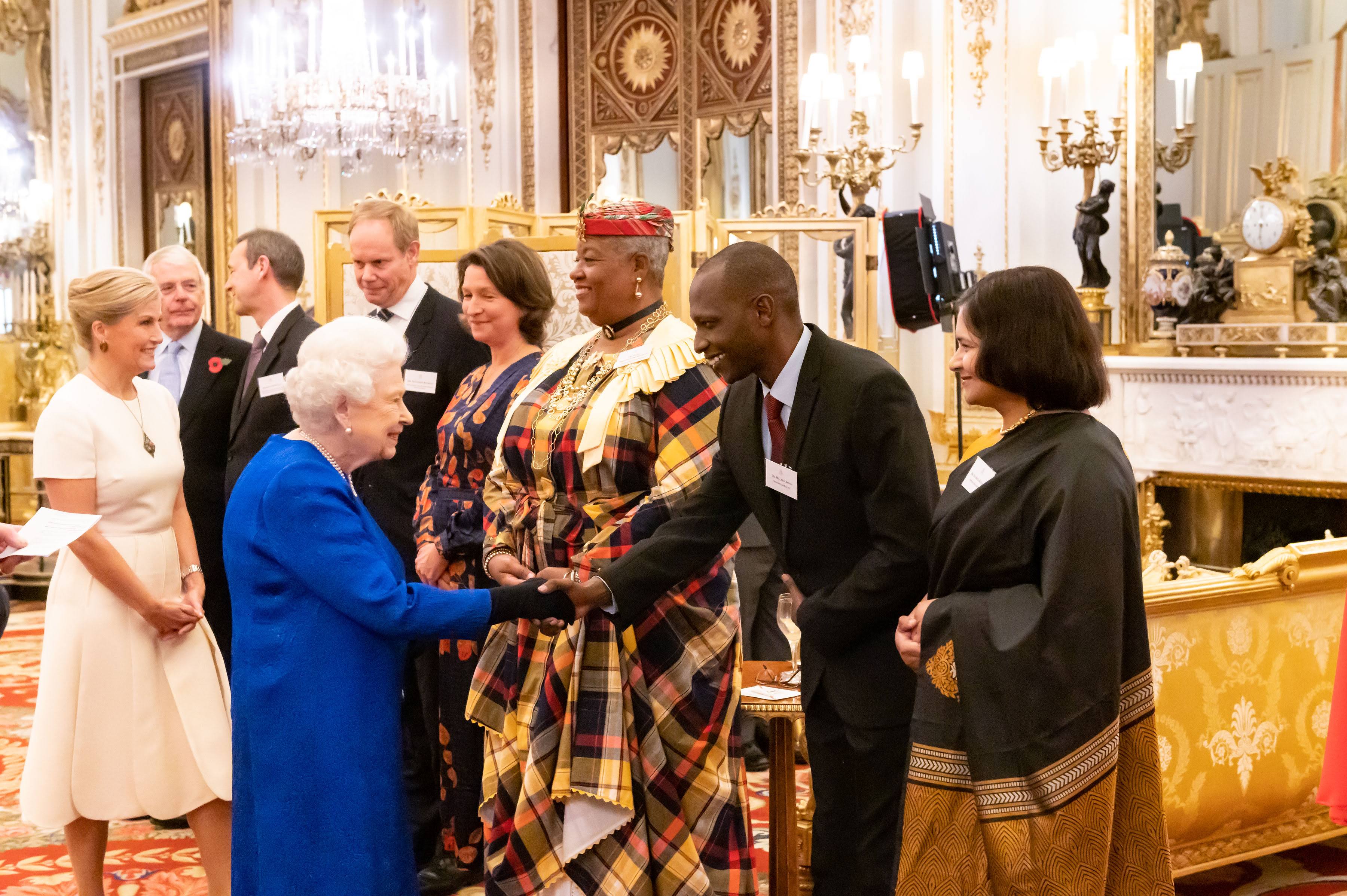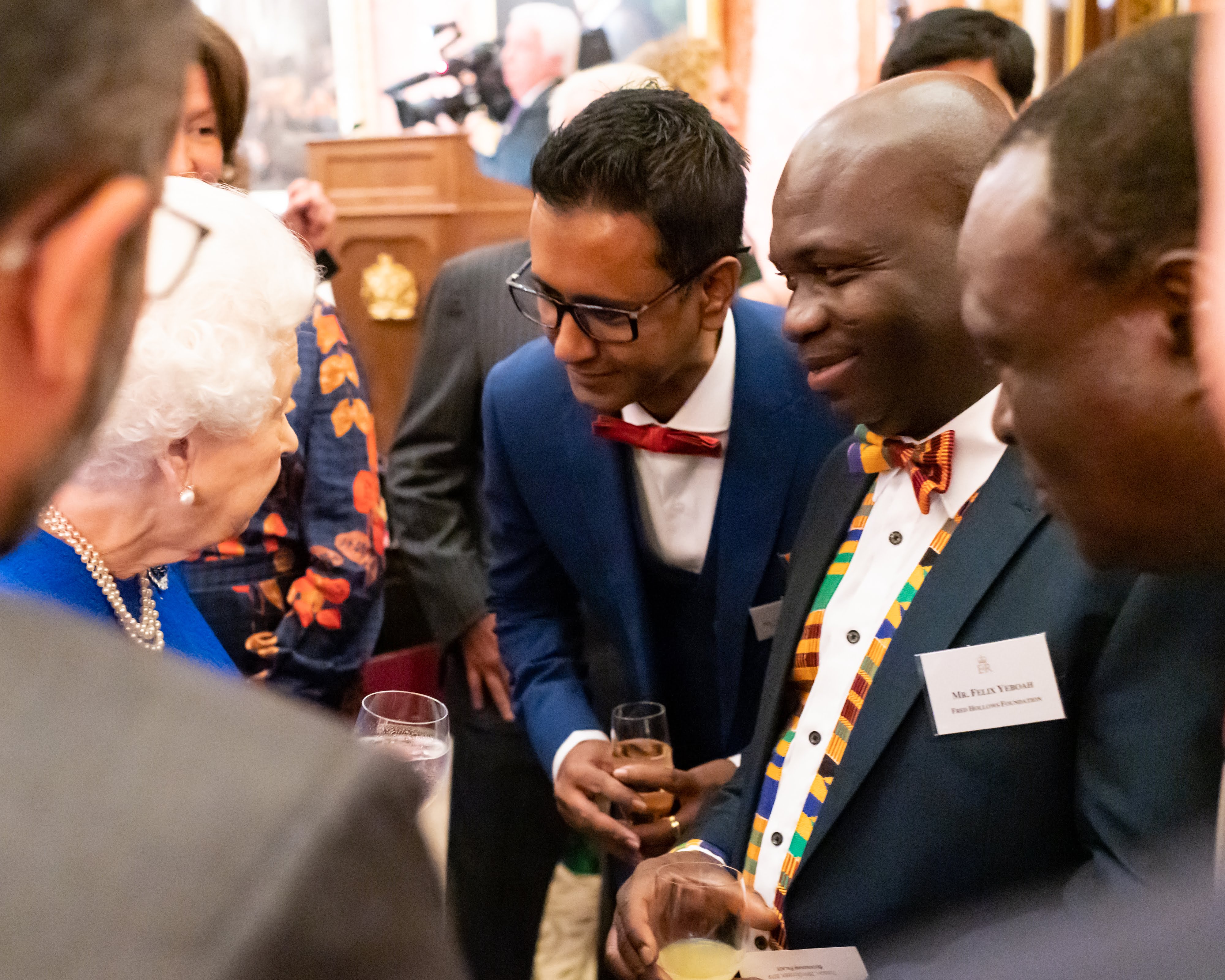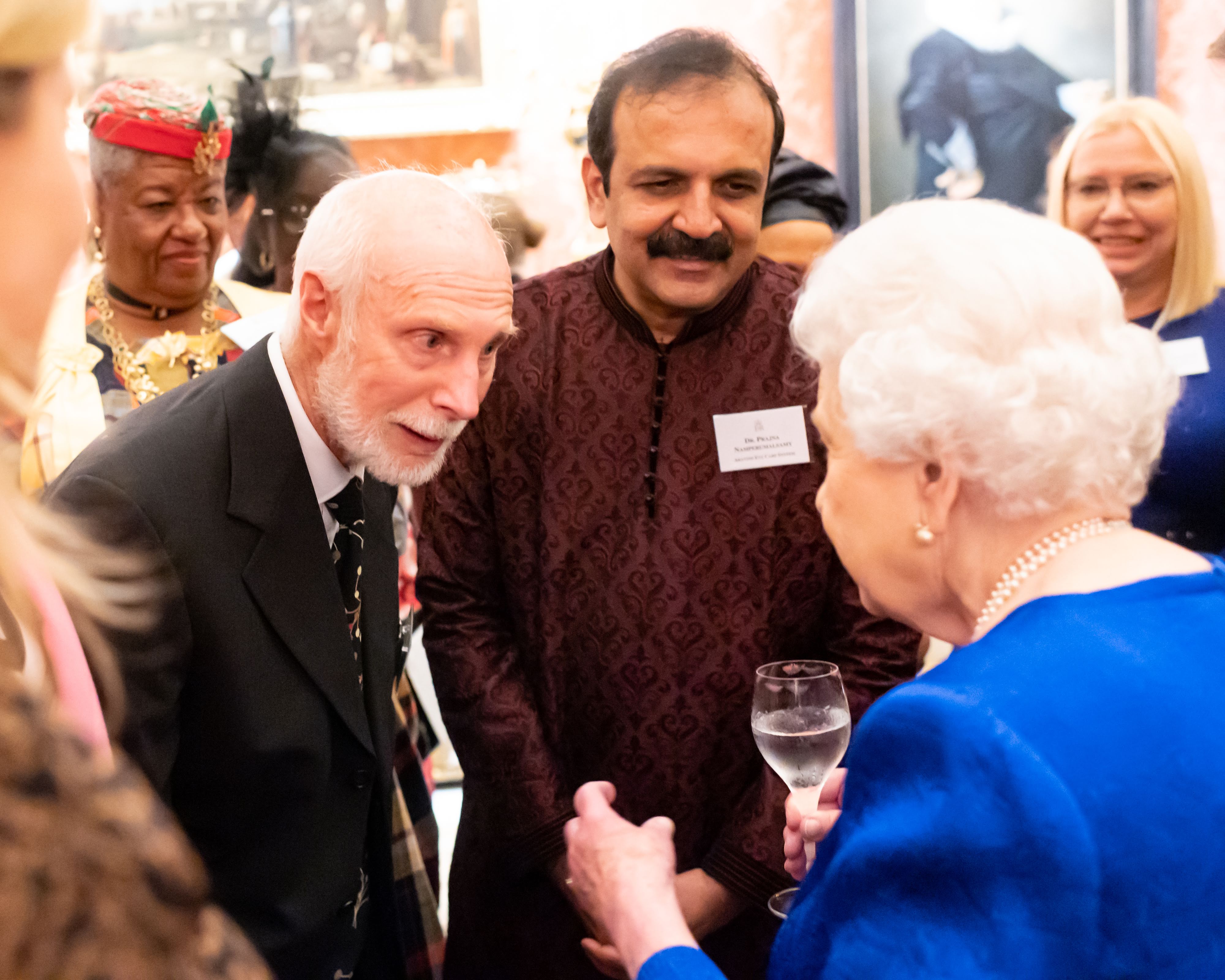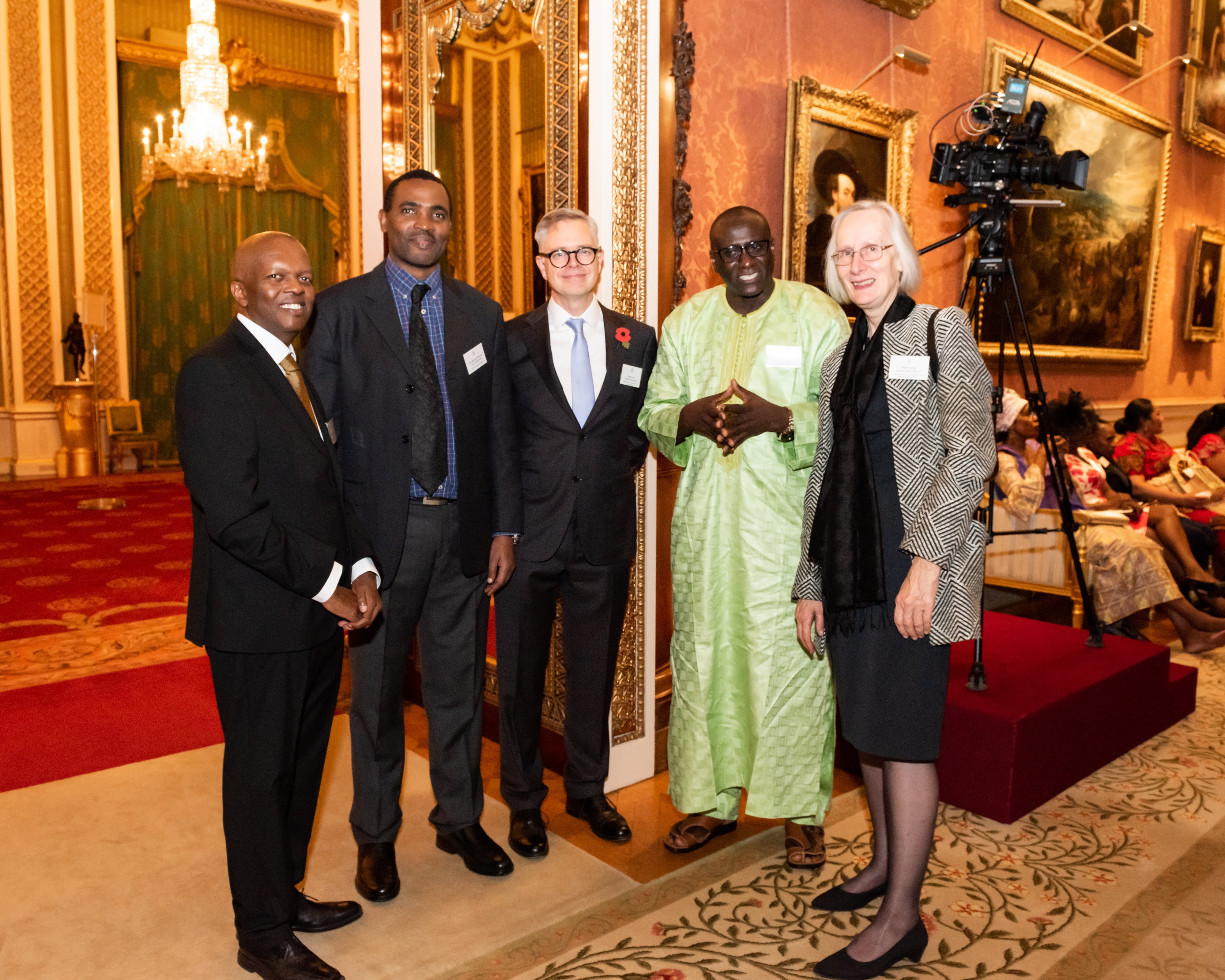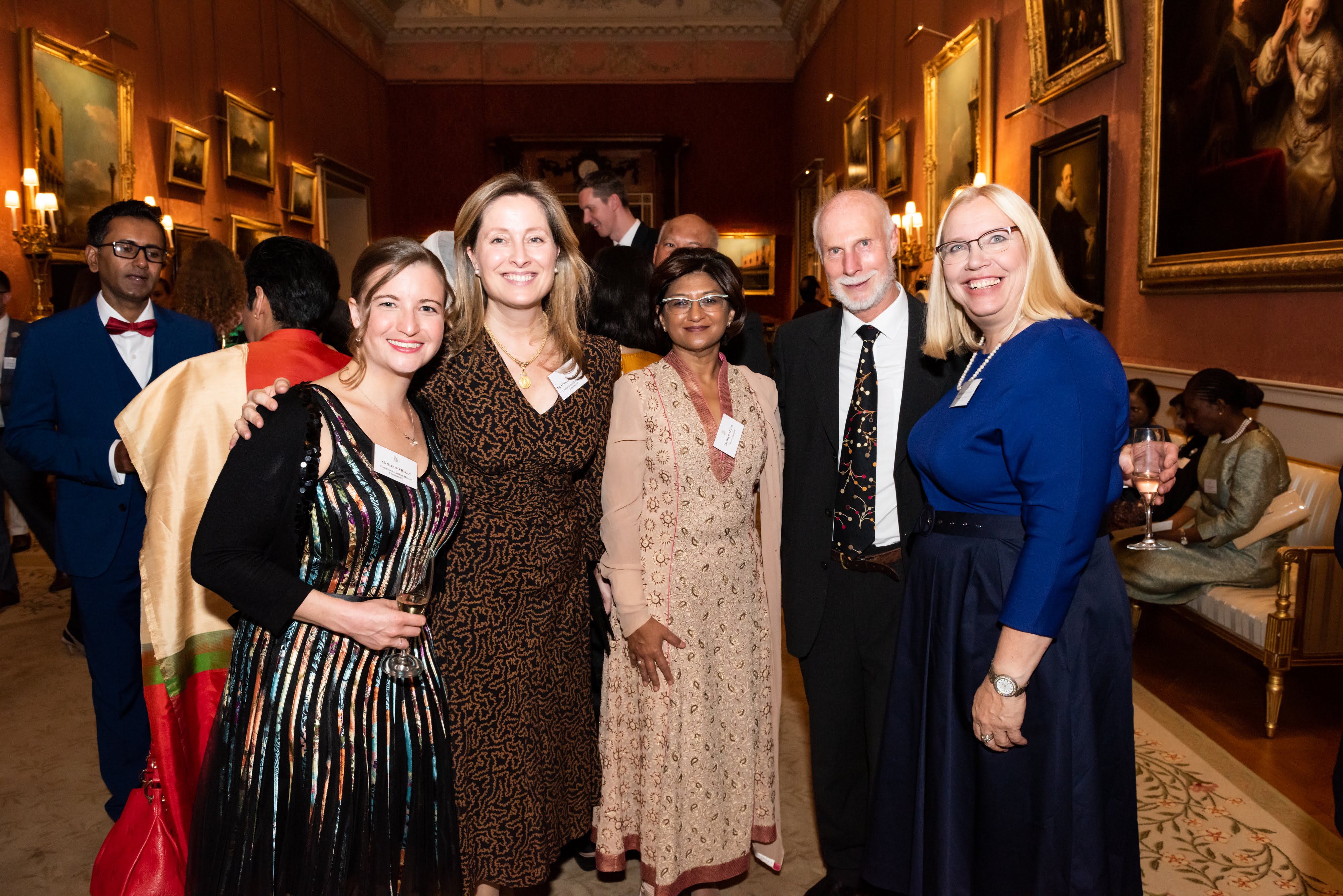 BACKGROUND
Worldwide there are 253 million visually impaired people, of whom 36 million are blind. Of these, 82 million and 14 million are Commonwealth Citizens, respectively (2015 data). Yet, 75% of this blindness is either treatable or preventable. Loss of sight can have profound effects on health and wellbeing, increase poverty, impede learning, shorten life span and reduce quality of life. It contributes to national economic loss through lost productivity.
For much of the world, good quality eye care is a scarce resource. Often those in greatest need have the most limited access. The large majority (89%) of people needing sight-restoring services live in low-income or middle-income countries (LMIC). Eye health services are frequently underdeveloped, left out of mainstream health systems and financing, with major gaps in human resources and capacity that urgently need to be closed. Yet against this, the economic case for investing in eye health is very compelling. Many eye health interventions are highly cost-effective. Improving eye health will contribute to achieving Universal Health Coverage and several of the Sustainable Development Goals.
To respond to these challenges, in 2014 The Queen Elizabeth Diamond Jubilee Trust provided a £13.5 million, five-year grant to establish the Commonwealth Eye Health Consortium. This is an international network of leading training institutions and four Colleges of Ophthalmology across the Commonwealth.
Our vision is a world in which no one is needlessly vision impaired, achieved by improved access to high quality services through strengthened health systems, so that no one is left behind.
We work together in partnership to deliver a coherent programme of (1) human capacity development for health systems strengthening; (2) knowledge generation and sharing; and (3) development and deployment of new affordable and accessible technology for eye care:
People – Knowledge – Tools
Together, we have made a substantial contribution to the development of the eye health workforce and strengthening of eye health systems. Citizens from at least 42 Commonwealth countries have already benefited from improved services, brought about by training people, increasing and sharing knowledge, and developing new tools and technology. While our focus is on low and middle-Income Commonwealth countries, our impact goes wider.
LANDMARK ACHIEVEMENTS: 2014 – 2019
Building Capacity in Eye Health Leadership and Research:
Open Education for Eye Health: More than 23,000 people from 188 countries and territories have taken our free on-line courses. More than 7,000 are from Commonwealth countries, and two-thirds are from LMICs. This makes high quality, topic-focused eye health training widely available.
Public Health Training: We have trained 38 people from 15 countries to Masters level in public health for eye care at LSHTM and the University of Cape Town (UCT). These courses have a strong track record of producing the leaders in eye health in many countries.
Research and Research Capacity Development: Consortium support is leading to approximately a doubling of the number of research active clinicians trained to PhD level from the African region. They are conducting contextually relevant, public health-oriented eye health research, which is informing policy and practice.
Developing New Clinical Services:
Sub-Specialty Clinical Training: We have provided sub-specialty clinical training for more than 140 ophthalmologists and related eye health workers, mostly from Sub-Saharan African (SSA) countries spending a year in South Asia. These specialists are delivering much-needed but previously unavailable treatment for people with more complex eye problems. We estimate that this will approximately double the number of ophthalmologists with formal sub-specialty training in African Commonwealth countries.
Regional Sub-Specialty Training in Africa: This returning cadre is providing a critical mass of trained personnel to develop sub-specialty training within the African region, which has previously not been available in most of SSA. The Consortium is supporting the two main regional colleges covering west, east, central and southern Africa, the West African College of Surgeons (WACS) and the College of Ophthalmology of Eastern Central and Southern Africa (COECSA), to develop training programmes within their regions.
Eye Health Development Networks: coordinated by the VISION 2020 LINKS programme, Networks are an effective new approach in this sector to catalyse service development and delivery. They are supported by North-South and South-South partnerships.

Diabetic Retinopathy Network: is supporting 16 Commonwealth countries to develop national or regional frameworks and programmes for the detection and treatment of diabetic eye disease, integrated into the wider health system.
Retinoblastoma Network: brings together partners from four countries to improve treatment and outcomes for this childhood eye cancer. The network has led to a global collaboration to collect and share data on retinoblastoma from 153 countries.
Retinopathy of Prematurity (ROP): Brings together partners through south-south collaboration in seven Commonwealth countries (four African and three Asian), and mentor institutions mostly in India. Two African countries have started ROP screening, others partners are scaling up services to other neonatal units, or are focusing on improving neonatal care to reduce the incidence of severe ROP.
Increasing Access through Technology
Peek Vision: The Consortium has supported the development and "spinout" of Peek Vision, utilising smartphone-based tools, integrated systems and incentive-based financing to identify and organise the treatment of populations with visual impairment.
Peek School Eye Health System: Demonstrated to more than double the uptake of services by visually impaired school children in a large randomised controlled trial. This is now being taken to a national level programme in a partnership between the Government of Botswana and Peek Vision. Botswana will become the first country worldwide to have a nationwide programme.
Peek Acuity App: This app has been downloaded and used by about 50,000 people in 160 countries. This simple-to-use smartphone-based test allows the user to reliably test eye sight. In 2017 it was nominated the "Best Social Impact Application" by Google.