Portable Eye Examination Kit (Peek)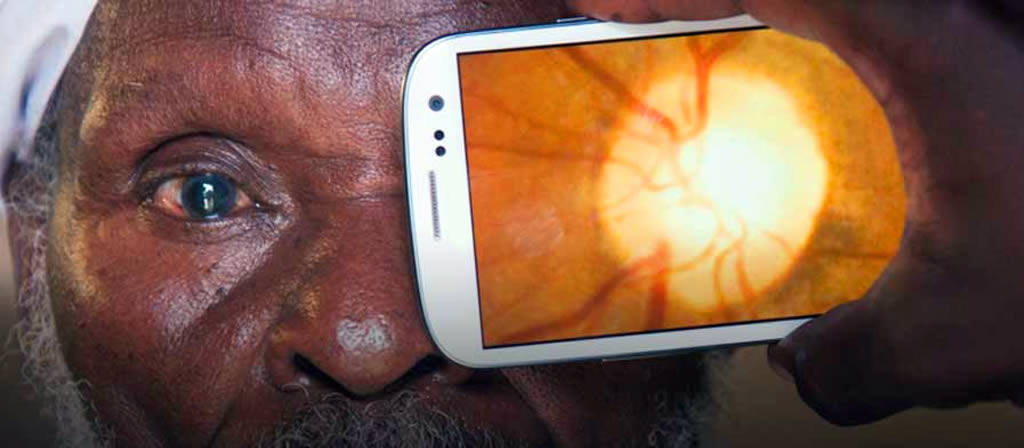 Connecting eye doctors and nurses to treat patients in remote settings
The multifunctional, smartphone based Portable Eye Examination Kit (Peek) aims to empower eye health workers to diagnose eye diseases and provide a low-cost device for managing and monitoring the treatment of patients, even in the remotest of settings.
Peek is being developed through a collaboration between the International Centre for Eye Health (ICEH) at the London School of Hygiene & Tropical Medicine, the University of Strathclyde and the Glasgow Centre for Ophthalmic Research. Several initial applications have already been developed and are currently under formal assessment, being compared to standard equipment in a large population-based study in Kenya.
Helping to realise Peek's full potential
The Consortium is helping to fully realise Peek through extensive development, validation studies and clinical trials and by making it a widely available, easy to use, low-cost, evidence-based tool to enhance eye care across the Commonwealth and other low- and middle-income settings around the world.
Crowdfunding campaign
We recently launched a crowdfunding campaign to help us realise our goal of manufacturing and distributing the Peek Retina adapter. This campaign is now closed (as of May 2015) but you can visit our page for more details.
More information
Visit the Peek website to find out more or contact the Peek team.
Image credits: Peek